ScotiaGold Passport for business VISA travel card
50% off the annual fee on your personal ScotiaGold Passport VISA* card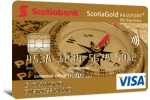 ScotiaGold Passport for business VISA travel card
Overview of credit card features





| | |
| --- | --- |
| | $120 |
| | $50 |
| | 19.99% |
| | 21.99% |
| | 1pts. |

| | |
| --- | --- |
| | yes |
| Travel Accident Insurance | yes |
| Trip Cancellation Insurance | no |
| Trip Interruption Insurance | no |
| | yes |
| | no |
| Lounge Access (four per year) | no |
| | no |
| Price Protection Insurance | no |
| Extended Warranty (1 Year) | yes |
| Purchase Protection (90 days) | yes |
| Lounge Access (one per year) | no |
Card details
Scotia Rewards A comprehensive rewards program with travel anywhere, at any time.
Credit limit of up to $500,000 for secured and $50,000 unsecured.
Grace Period Interest-free at least 21 days1 on new purchases.
Additional Cards Annual Fee $50/card
Get 50% off the annual fee on your personal ScotiaGold Passport VISA* card.
Convenient VISA payWave for speed, convenience, and security when paying for small, everyday purchases.
Editor`s Review
The Scotia Rewards program gives you one Scotia Rewards point for every dollar in purchases charged to your card2. By using your ScotiaGold Passport for business VISA card for all of your purchases, you'll be able to quickly redeem your points for an extensive array of rewards, including2:
Flexible, unrestricted travel options through our complimentary travel agency
Brand-name merchandise
Gift certificate from major retailers
Scotia Rewards Investment & Credit Vouchers
Supplementary Cardmembers also earn Scotia Rewards points - a great way to earn extra points on all of your business expenses and your purchases are itemized separately on your statement each month for improved expense management.
Additional Card Benefits include:
Personalized cards with both your personal and business name.
Free Scotia VISA Cheques for balance transfers, or to pay insurance premiums, medical/dental bills and utility bills.
Access to VISA mini-statements through Scotiabank ABMs, Scotia OnLine® Internet Banking and TeleScotia® Telephone Banking.
Instant Cash Advances Worldwide — Use your Scotiabank VISA card and Personal Identification Number (PIN) to obtain cash advances at any Scotiabank Interac*** ABM in Canada and at over 1 million VISA/PLUS member ABMs around the world. You can select a PIN for your VISA card at any Scotiabank branch.
Lost or Stolen Card Assistance — Should your Scotiabank VISA card ever be lost or stolen, VISA Assistance Centres are ready to help with emergency card replacement.
Visa payWave saves you time when paying for small, everyday purchases. Simply wave your card over the card reader and go!
It's More Rewarding, in More Ways
For ScotiaGold Passport for business VISA Cardmembers who also carry a ScotiaGold Passport VISA card, you can combine the Scotia Rewards points earned on both cards when you decide to redeem your points. What's more, you'll also benefit from a 50% reduction in the annual fee on your personal ScotiaGold Passport VISA card - an annual savings of up to $554.
Business Travel with Real Peace of Mind
Take advantage of extensive travel insurance benefits at no extra cost, such as5:
Flight Delay Insurance
Rental Car Collision Insurance
Common Carrier Travel Accident Insurance
Lost Luggage and Delayed Luggage Insurance
Hotel/Motel Burglary Insurance (Canada and the US only)
Travel Insurance Benefits
In addition to comprehensive travel insurance, save with 5% Cash Back6 on airline tickets, pre-packaged tours or cruises booked through our travel agency7. Plus, you'll enjoy exclusive access to our Concierge Service8 and a worldwide network of experts who can provide you with personalized service 24/7.
Other Business Savings Include:
Discounted rates of up to 20% at participating AVIS locations worldwide
Commission-free Travellers Cheques