ScotiaGold Passport VISA card
Travel anytime, anywhere without restrictions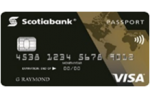 ScotiaGold Passport VISA card
Overview of credit card features





| | |
| --- | --- |
| | $110 |
| | $30 |
| | 19.99% |
| | 22.99% |
| | 1pts. |

| | |
| --- | --- |
| | yes |
| Travel Accident Insurance | yes |
| Trip Cancellation Insurance | yes |
| Trip Interruption Insurance | yes |
| | yes |
| | yes |
| | yes |
| Price Protection Insurance | yes |
| Extended Warranty (1 Year) | yes |
| Purchase Protection (90 days) | yes |
Card details
Earn 5,000 bonus Scotia Rewards points upon your first purchase
Earn 1 Scotia Rewards point for every $1 you spend on eligible everyday purchases
5% cash back on travel purchased through Scotia Rewards Flexible Point Redemption
This card is good for:
Those who love to travel
Those who like to earn points on their travel, and save money at the same time
Those who want the perks of 24 hour concierge services
Those who want to travel worry-free, with included medical and trip cancellation insurance, as well as other benefits
Those who want extended warranty and purchase protection
Editor`s Review
This card lets you earn 1 Scotia Reward point for every $1 you spend. You can travel anywhere, at any time with no restrictions. You also earn 5,000 bonus points when you sign up! The benefits of this card include 5% cash back on travel purchased through the Scotia Rewards Travel Service, as well as exclusive travel opportunities and last second deals at low rates!
Card members enjoy automatic travel emergency medical insurance, as well as trip cancellation/interruption insurance, common carrier travel accident insurance, rental car collision insurance, lost/delayed luggage insurance and more! This card also offers purchase security and extended warranty insurance, and many other perks!
Potential Cost Savings
Use your ScotiaGold Passport VISA card to book a two-week vacation and you could:
SAVE $76 - Travel Emergency Medical Insurance - for trips of 31 days or less only. Cardmembers who travel for more than 31 days, but less than 45 days, must purchase top-up coverage prior to leaving their province of residence by calling Scotia Assist at 1-800-263-0997. (Based on premiums for a two-week trip for two adults under 65)
SAVE $210 - Rental Car Collision Insurance (two week rental)
SAVE $150 - Trip Cancellation/Interruption Insurance based on a vacation package of $2,500 for two adults (under 65)
SAVE $30 - Common Carrier Travel Accident Insurance
SAVE $125 - 5% Cash Back (on a $2,500 vacation package for two booked with the Scotia RewardsTravel Service)
SAVE $25 - Commission-free regular American Express Travellers Cheques5 (based on $2,000)