National Bank of Canada MasterCard Edition Credit Card
Cash Back card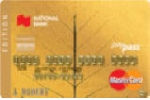 National Bank of Canada MasterCard Edition Credit Card
Overview of credit card features





| | |
| --- | --- |
| | $20 |
| | 0% |
| | 14.5% |
| | 21.99% |
| General Cash Back Percentage | $1 |

| | |
| --- | --- |
| | no |
| Travel Accident Insurance | no |
| Trip Cancellation Insurance | no |
| Extended Warranty (1 Year) | yes |
| Purchase Protection (90 days) | yes |
This card is good for:
Those who want to establish or rebuild credit history

Those who want to take advantage of a low interest option

Those who want a flexibility between CashBack and an A la carte Rewards Plan
Editor`s Review
This is a unique card that offers either a Cash Back or À la carte Rewards Plan based on your individual preference. Although this card technically does not have an annual fee, there is a $20 annual option to reduce your interest rate from 19.99% to 14.5% - an option one should take a closer look at. This card is great to help establish or rebuild credit, and offers additional perks such as extended warranty up to one additional year, and 90 days purchase insurance on your purchases.