Costco - Capital One Platinum MasterCard
Earn 3% cash back at restaurants, 2% on gas and up to 1% on all other purchases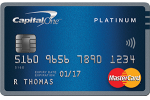 Costco - Capital One Platinum MasterCard
Overview of credit card features





| | |
| --- | --- |
| | $55 |
| | $0 |
| | 19.75% |
| | 19.75% |
| General Cash Back Percentage | 1% |
| | 3% |
| | 2% |

| | |
| --- | --- |
| Travel Accident Insurance | yes |
| | yes |
| | yes |
| Price Protection Insurance | yes |
| Extended Warranty (1 Year) | yes |
| Purchase Protection (90 days) | yes |
This card is good for:
Those who would like to receive great benefits at no-fee (Exclusive for COSTCO members only!)
Those who would like to Earn 3% cash back at restaurants, 2% on gas and up to 1% on all other purchases
Those who would like a card with great benefits and no annual fee
Those who would like to benefit from Price Protection, Purchase Assurance and Extended Warranty features
Those who would benefit from platinum travel benefits
Editor`s Review
This is a must-have card for Costco members. Take advantage of the great cash-back benefits of this no-fee card (for those who already a Costco member). If you are not a Costco member, WalletSavvy beliaes that it is still wise to pay the $55 Costco memberhip to get the amazing features this card offers. Not only you get the discounts and all the good deals at the Costco stores, but you can also get significant returns with no limits. The card also features price protection, purchase assurance and extended warranty as well as provides users with plaatinum travel benefits (which are normally offered for a card with an annual fee).