CAA-Quebec Dollars Platinum Plus MasterCard (MBNA)
Earn CAA-Quebec Dollars on eligible purchases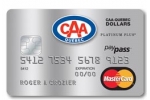 CAA-Quebec Dollars Platinum Plus MasterCard (MBNA)
Overview of credit card features





| | |
| --- | --- |
| | $0 |
| | 19.99% |
| | 24.99% |
| General Cash Back Percentage | 1% |
| | 1.5% |

| | |
| --- | --- |
| | no |
| Travel Accident Insurance | no |
| Trip Cancellation Insurance | no |
| | no |
| | yes |
| Price Protection Insurance | yes |
| Extended Warranty (1 Year) | no |
This card is good for:
Earn CAA Dollars faster

Earn 1% in CAA-Quebec Dollars on your eligible purchases
Earn an additional 1% in CAA-Quebec Dollars on eligible purchases, including gas at participating Couche-Tard locations
Earn an additional 20% CAA-Quebec Dollars on every eligible purchase‡ when compared to the CAA-Quebec Dollars Platinum Plus®MasterCard® credit card with the CAA-Quebec Dollars World MasterCard® credit card
1.99% promotional annual interest rate† (AIR) on balance transfers✪ for the first 10 full months
Offer available only for CAA-Quebec members register now
No annual fee

As a valued CAA-Quebec member you could earn CAA-Quebec Dollars much faster with the CAA-Quebec Dollars World® MasterCard® credit card. Apply now.
Editor`s Review
This no annual fee card will allow the cardholder to earn CAA-Quebec Dollars that could be used to purchase CAA-Quebec products and services at reduced prices: travel, insurance, items from The Boutique and more. As well, you can exchange your CAA-Quebec Dollars for CAA-Quebec Approved Auto Repair Services gift cards, or for Couche-Tard or Familiprix prepaid cards.