BMO AIR MILES World MasterCard
Earn AIR MILES faster with this card - 1 AIR MILES for every $15 in purchases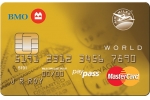 BMO AIR MILES World MasterCard
Overview of credit card features





| | |
| --- | --- |
| | $99 |
| | 19.99% |
| | 22.99% |
| | 0.067pts. |

| | |
| --- | --- |
| Travel Accident Insurance | yes |
| Trip Interruption Insurance | yes |
| | yes |
| Price Protection Insurance | yes |
| Extended Warranty (1 Year) | yes |
| Purchase Protection (90 days) | yes |
Card details
Exclusive Benefits
Earn faster and stretch your miles further than other AIR MILES credit cards.
Limited Time Offer: 2,000 AIR MILES reward miles

Earn 1,000 Bonus AIR MILES reward miles after your first card purchase. Earn an additional 1,000 reward miles when you spend $1,000 in the first three months*. That's enough for two short-haul flights! 1

Our Highest AIR MILES Earning Rate
Earn 1 reward mile for every $15 in credit card purchases.
Turn everyday purchases into valuable AIR MILES rewards – from dream vacations and top-brand merchandise to exciting entertainment and sports packages.

Exclusive 25% Flight Discount
Fly on any AIR MILES flight for 25% fewer miles when you book through airmiles.ca or by calling 1-888-247-6453. For example, you could redeem a 1,300 reward miles flight for only 975 reward miles – the only credit card with this offer.

AIR MILES Rewards
AIR MILES is named the #1 loyalty program in Canada and BMO is the only bank that offers AIR MILES reward miles. With over 1,000 reward options from hundreds of sponsors, it's easy to get the reward you want.

NEW! You can now use your BMO MasterCard at Costco locations across Canada.

BMO World MasterCard Travel Protection
Travel worry-free with coverage for car rental collision damage, unexpected return home, Common Carrier Accidental Death and Dismemberment Insurance, and more.

Features of Every Card

Extended Warranty
Save the cost of buying optional extended warranty insurance on your next purchase by paying with your BMO credit card. This coverage doubles the original manufacturer's warranty period up to a maximum of one additional year.

Purchase Protection
Get added protection – items bought with your card are automatically insured against theft or damage for 90 days from date of purchase.

Zero Dollar Liability
Get free protection from both theft and fraudulent use of your card. If your card is used without your authorization, you will not be liable if:
You did not contribute to the unauthorized use
You used reasonable care to safeguard your card and PIN
You notify us by telephone within 24 hours if you learn of the loss, theft or misuse of your card or cheques, or after you suspected that someone else knows your PIN
You have not reported two or more unauthorized transactions in the last 12 months, and your account is in good standing.
If you don't meet these criteria, you will be liable for all charges incurred in connection with the unauthorized use.
Help around the World and Lost or Stolen Card Replacement Funds from MasterCard Global Service
Whether you've left your wallet in the airport or are lost in Paris and need to locate an ATM, you can call us 24 hours a day, 365 days a year. We'll connect you with a representative who speaks your language, and can help with:
Lost or stolen cards
Emergency replacement cards or up to $1,000 in emergency funds
Locate an ATM that accepts MasterCard, Maestro®*, and Cirrus®* brands
Access account-related information
Access any applicable card benefits
This card is good for:
Those who would like to collect Air Miles reward points faster
Those who would like to receive exclusive 25% discount when booking flights through arimiles.ca
Those who would like to be covered for car rental collision insurance, trip interruption and common carrier accident insurance